Like many kids, my kids can be pretty picky when it comes to food. Their taste buds seem to be changing daily! They love it when I'm creative with their meals, and I love it when I know I am providing them with essential nutrients.
When I surprised my daughters with a fun lunch we could all make together, my girls were eager! We made these cute Puppy Peanut Butter Sandwiches. With only 6 ingredients needed and the total preparation time of 5 minutes, these sandwiches are a new favorite of ours, and they pair well with a glass of Hood Milk®, another favorite in our house.
One thing that never changes is their love for milk. They love pouring (more like attempting) their own glasses of milk, and the milk that I trust is Hood Milk®. With 9 essential nutrients and 8 grams of protein per serving, you can trust Hood Milk to deliver the nutrition growing bodies need. Their milk is also produced without artificial growth hormones* and all milk is tested for antibiotics**. From the farms they choose to the LightBlock Bottle® in your fridge, you can trust that the quality and taste of Hood Milk is protected at every step of the way. As a mom of three growing girls, I feel confident serving them Hood Milk.
Here's what you need to make your own Puppy Peanut Butter Sandwiches:
Ingredients:
(makes 1 serving)
2 slices of wheat bread
2 tablespoons reduced-fat creamy peanut butter
1 tablespoon honey
½ of 1 small strawberry
3 raisins
2 oval-shaped buttery crackers
Optional—extra peanut butter, for ears
Pair each serving with an 8-ounce glass of Hood® milk
Directions:
Spread peanut butter on one slice of bread. Spread or drizzle honey over peanut butter. Top with a second slice of bread.
Arrange sandwich with the curved crust side pointing downward. Use a butter knife to push the center of the curved crust up toward the middle of the sandwich (this part is shaping the cheeks of the puppy face).
Place crackers diagonally on the top corners of the sandwich to make ears. If needed, use a little extra peanut butter to adhere to the ears.
Place raisins in an inverted triangle shape to make eyes and nose. To make the tongue, push strawberry half, cut-side-down, slightly in between the two slices of bread at the point where you previously pushed the crust up to make the cheeks.
Serve with an 8-ounce glass of Hood milk.
| | | |
| --- | --- | --- |
| | | |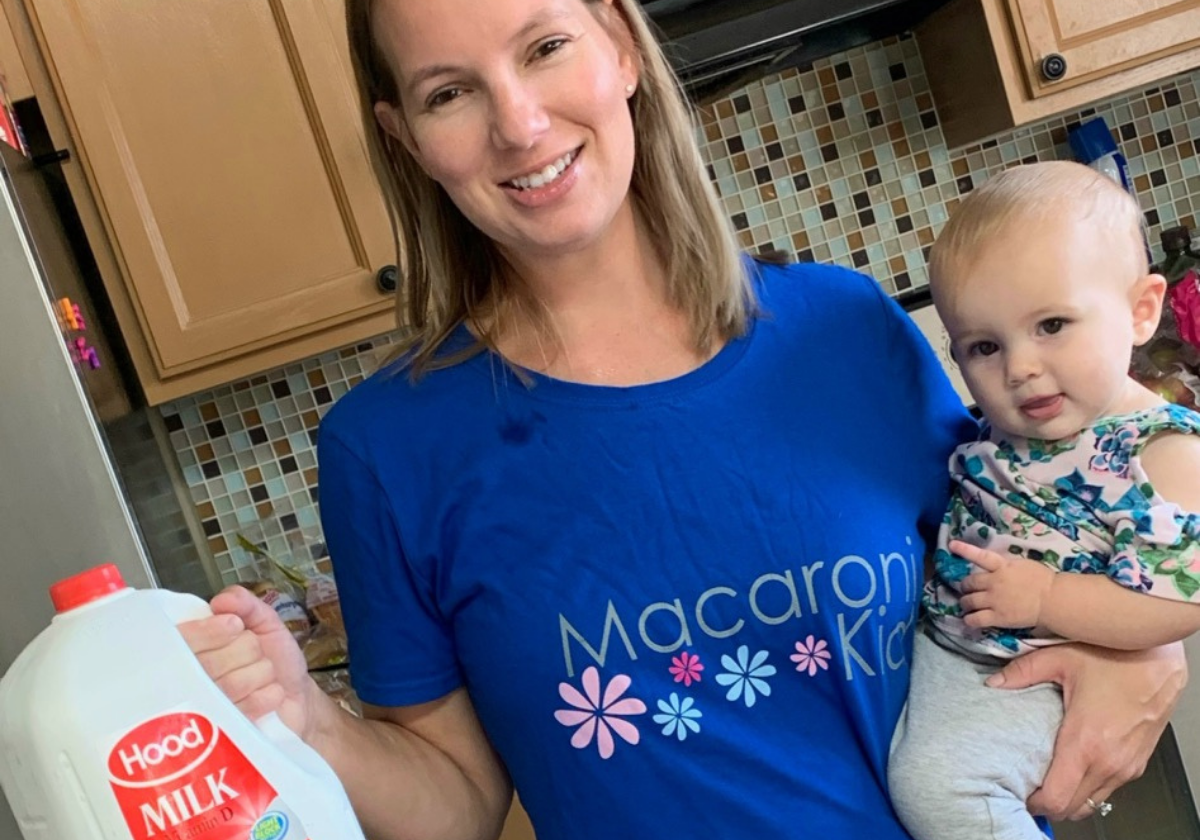 Macaroni Kid is proud to partner with Hood for this campaign. The author has been compensated for their time. All opinions are their own.

*No significant difference has been shown between milk derived from rbST-treated and non-rbST-treated cows.

**FDA requires milk to be tested for certain antibiotics.